"Impeccably balanced": the Oxford Mail's low-traffic neighbourhood reporting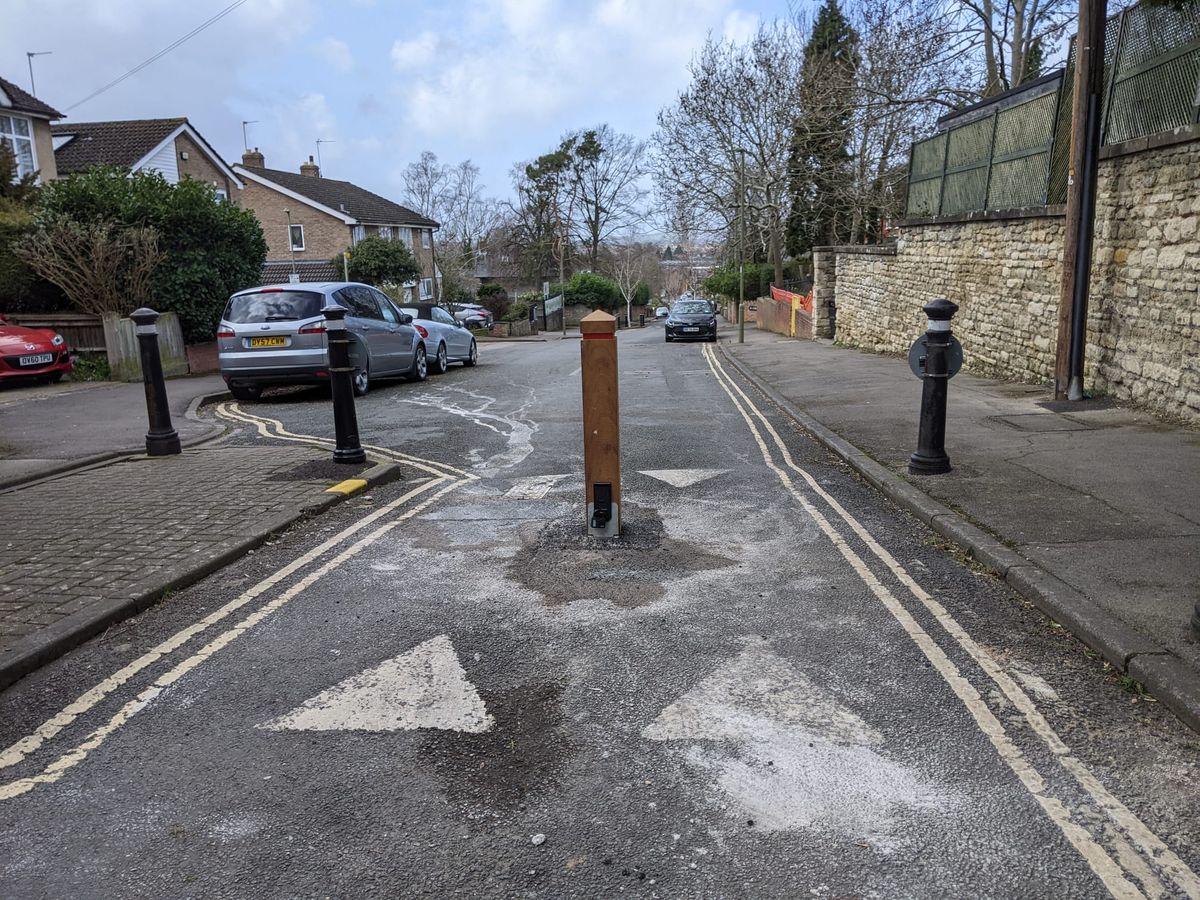 Analysis of the Oxford Mail's low-traffic neighbourhood coverage shows that the city's legacy print newspaper takes a consistently hostile view of the project.
Using text analysis software, the Oxford Clarion has examined the Mail's LTN coverage, and compared it to other reporting by the same paper. The software rates text around a zero-based median, where a score below 0 indicates a negative sentiment, and above 0 indicates a positive sentiment.
The Mail's overall transport reporting had a sentiment score of 0.13, indicating very mildly positive. Its general reporting around Oxford city issues scored -0.77, indicating a negative sentiment.
Specialist crime reporting scored -1.62, which is to be expected given the subject matter. The Mail's reporting on Oxfordshire County Council scored -1.63.
However, its reporting on LTNs had an overall sentiment score of -3.41 – indicating that the writing is characterised by exceptionally negative sentiments.
A typical story is this one. It ran as the lead story in the Oxford Times (the Mail's weekly edition) with the headline "Council may pay £336k for LTN spy cameras". The story begins "Householders have accused Oxfordshire County Council of being 'out of touch'" and continues "Councillors and East Oxford householders branded the cost as 'absolutely disgusting' and 'utterly astonishing'". Two hostile residents are quoted in the story, as well as three councillors (one pro-LTN Green, one anti-LTN Conservative, one anti-LTN independent).
The author of the piece, the Mail's political writer Ed Halford, contacted Reconnecting Oxford – the campaign group against "unnecessary, unfair and unreasonable restrictions or road closures" – to gather residents' stories for the piece. This request was passed onto the "Anti LTN Uncensored" Facebook group by Reconnecting Oxford's Richard Parnham, who noted the Mail's willingness to run "articles that are in our favour".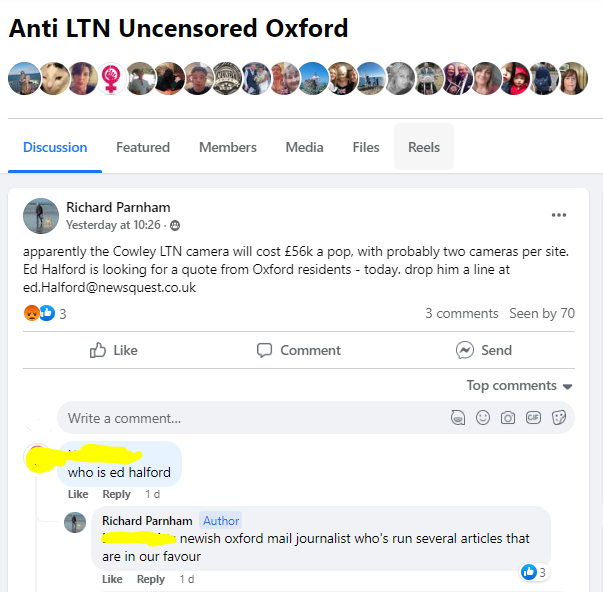 Cyclox and Liveable Cowley confirmed to the Oxford Clarion that they had not been approached for comment. The piece ran without any balancing quotes from LTN-supporting residents.
"Not bothering to turn up"
On 10th March, the Oxford Mail published a report on a campaign event hosted the previous evening by Reconnecting Oxford and the Together Declaration, a group formed to oppose Covid lockdowns but now targeting "the rapidly growing infringements on our rights and freedoms". The 'Free Our Streets' meeting was called to debate the Central Oxfordshire Travel Plan, which includes low-traffic neighbourhoods and the proposed traffic filters.
The lede of the report originally read:
[before] A householder in favour of traffic filters stole the spotlight at a key LTNs debate in Oxford.
However, shortly afterwards, the story was rewritten to begin:
[after] Leading councillors behind traffic restrictions which will see most motorists banned from driving through Oxford city centre have been criticised for 'snubbing' a meeting held to discuss the issue.
Similar rewrites occurred throughout the article. A section describing the audience's hostility to acknowledging climate change was removed:
[before] Mr Hartzell pleaded with the audience that what was needed was to find "common ground." The audience groaned when he mentioned climate change and the lack of engagement with the topic during the debate.
The framing around Mr Hartzell's pro-LTN address was also changed from this (emphasis ours):
[before] Mr Hartzell started off his contribution to the debate by making it clear that he was disappointed Oxfordshire County Council decided not to send any representatives to defend their traffic policy.
to the more hostile:
[after] Oxford householder Jamie Hartzell, defended LTNs and traffic filters but criticised councillors for not bothering to turn up to defend their own traffic policies.
But although the revised article heavily criticised county councillors for not defending their own policy, it actually reduced the space it gave those self-same councillors for their defence. Most of the statement given by Oxfordshire County Council leader Liz Leffman was excised from the revised article, including these paragraphs:
[before] "We get better representation of our residents' views through constructive engagement opportunities with them rather than through campaign groups.
"We understand that cars still have a role to play in our transport system, but we want to make it quicker, cheaper and safer for residents across the county to leave their cars at home and travel actively, for example, by walking, cycling, scooting or using buses. This will make our streets cleaner, safer and less congested, and help those who need to use cars to make their essential journeys.
"Tackling climate change underpins all we do. The climate emergency is the biggest challenge the planet faces."
(You can read the original article via archive.org, and the revised version on the Oxford Mail website.)
On 28th March, Oxford Mail readers could also trace the evolution of a story about a fire engine being "blocked" by LTN bollards, rewritten several times during the afternoon. The first version ran with the headline "LTNs blocks [sic] fire engine from passing through". When Oxfordshire Fire & Rescue pointed out that this was actually a deliberate training exercise to practise bollard removal, the headline was changed to "LTNs used for fire engine practice run in East Oxford". However, the story was still trailed on the front page with an anonymous, negative coda: "LTNs used for emergency services practice amid safety fears".
Since 2017, Oxford Mail authors have posted their stories directly without a sub-editor reviewing them first. Edits typically happen after the story goes live. One explanation for the evolution of the 'Free Our Streets' and fire engine stories could be a senior editor at the Oxford Mail intervening to reshape the direction of a junior reporter's copy.
"Small-minded councils"
Tim Hughes, the newspaper's Audience & Content Editor and second-in-command to editor Andrew Colley, is the Oxford Mail's most active editor on Twitter. He says the Mail is "impeccably balanced" on the subject and has accused people who question its reporting of "dispensing laughable falsehoods", tweeting in February from his Oxford Mail-branded account:
In a reply to Green county councillor Robin Bennett, he claimed that the Mail's reporting had been "absolutely balanced":
He also described the city and county councils as "small-minded [and] money-grasping", contrasting with "more enlightened places like Witney, which has… free parking".
LTN supporters have highlighted the prominence that the Oxford Mail repeatedly gives to the views of Jeremy Mogford, the city hotelier and owner of Quod, Gees and the Old Parsonage. Tim Hughes said that Mr Mogford, who earned £35m by selling the Browns restaurant chain in 1996, has a strong understanding of the needs of "ordinary working people":
This is one Oxford Mail front page highlighting Jeremy Mogford's views on what Tim Hughes described as "extreme measures":
In February this year, "the excellent Jeremy Mogford" compared a Liberal Democrat county councillor to Josef Mengele, the Auschwitz doctor who experimented on Jewish children and was responsible for thousands of deaths.
"Severely depleted"
Three conglomerates dominate British local newspaper publishing: Reach, Newsquest, and National World. The Oxford Mail is owned by Newsquest, the UK division of American firm Gannett. In 2021, unionised journalists at the paper described the paper's staffing as "severely depleted", and criticised Newsquest's fire-and-rehire strategy to impose new terms and conditions.
In common with other local newspapers, the print circulation of the Oxford Mail has fallen sharply. Figures provided by the Audit Bureau of Circulations (ABC) show that it has halved in six years. In 2016 it sold 10,777 copies a day; today's figure is 5,077.
The Oxford Mail's digital readership is not audited by ABC, but similarweb.com estimates it has 3.4m (non-unique) visits each year, making it the 94th most visited news site in Britain. This is lower than the same publisher's Brighton Argus at 4m, but well above the Worcester News at 1.7m. (Reach's competing site, Oxfordshire Live, is estimated at 0.24m. National World does not yet have an Oxford site, though it owns the Banbury Guardian and has registered oxfordworld.co.uk.)
For online newspapers, engagement via social media platforms has long been a key concern. Most readers discover content from the Oxford Mail not via its homepage, but by interacting with its stories on Facebook, Twitter, Instagram, or its email newsletters. The Mail has 59,700 followers on Facebook and 82,500 on Twitter. The more of them that share or retweet its content, the greater the paper's reach. (As a point of comparison, the Oxford Clarion has just 1,200 followers on Twitter. Oxfordshire Live has 400.)
Most Oxford Mail stories have relatively low engagement numbers. The Mail's 3 April story on the closure of the Oxford–Didcot railway received two retweets and six likes. The same day, the Oxford Clarion's tweet scored 50 retweets and 54 likes, while Paul Clifton of the BBC got 43 retweets and 133 likes for the first in a series of tweets.
The Mail's LTN stories, however, do get a little more social media engagement than the newspaper's typical fare. A Facebook story about the impact of LTNs on ambulance call-out times received 17 comments and 3 shares. This was more than most that day, although less than a story about 82 new homes in Stanford-in-the-Vale (62 comments) or another about a Subway takeaway in Didcot receiving a one-star hygiene rating (27 comments and 11 shares).
"The model is broken"
Oxford's demographic profile is unusual. 43% of residents are educated to degree level, vs 27% average across England. 39% travel to work by foot or bike (vs 14%), and 38% by car (vs 65%). Susan Brown, leader of Oxford City Council, described the city as "famously young and dynamic… particularly since the Oxford Vaccine, we are known for our education, research and healthcare".
It's no surprise, then, that the only quantitative survey of Oxford opinion about low-traffic neighbourhoods suggested overall support. A YouGov poll in autumn 2022 showed 56% support, 29% against.
So why does the Oxford Mail take an editorial line seemingly out of register with the Oxford demographic?
Like any commercial publication, the Mail aims to attract an audience that it believes will be profitable. Newsquest's business model is a combination of advertising, subscriptions, and public subsidies. More engagement means more views. More views mean more advertising impressions. More impressions mean more money.
The Oxford Clarion doesn't have to chase clicks or make money. Even so, we know that for our particular audience, a good news tweet about a new cycle route will "do better numbers" than (for example) one about an excellent Oxford theatre company.
Similarly, the Oxford Mail has made a conscious decision that its negative coverage will create more engagement: more Facebook comments, more shares, more retweets. It has no obligation to target the full breadth of Oxford opinion – just that portion that it believes will result in the most engagement for the lowest investment.
An analysis of local newspaper publishing by Mark Sweney for the Guardian quotes newspaper analyst Douglas McCabe on the Newsquest/Reach/National World model.
"The scale of online audience is very impressive but they've not worked out how to retain usage and build value for users," says McCabe. "The majority of sites are nowhere near monetising sustainably. The focus seems to be on getting as many eyeballs on a page as you can, but it needs to be about what is valuable."
It goes on to quote Joshi Hermann, founder of the independent Mill which is building a reputation for deep-dive reporting in Manchester. He says that the papers' national one-size-fits-all approach fails to reflect local communities.
"The most important thing I've learned from the last few years is that there is a massive demand for high-quality journalism," he says. "The decline is not because people don't want good local journalism. The problem is that becoming nationally focused is quite alienating. The model is broken."