No, you haven't mislaid your polling card.
If you're reading this in Oxford City, you don't have elections this year. The city elects half its councillors at a time, so there's two years between each set of elections.
Nor are there elections for Oxfordshire County Council, whose councillors are elected in a single election every four years. But there are elections on 4 May across the four rural district councils: Vale of White Horse, South Oxfordshire, Cherwell, and West Oxfordshire. The entire council is up for election in South and Vale, and one third of seats in Cherwell and West.
Voting for who?
Psephologists can never agree to what extent local elections reflect the national picture. Keir Starmer is riding high in the polls, Rishi Sunak is trailing behind, and Ed Davey is more or less invisible. (He's the Liberal Democrat leader, if you were wondering.) Nationally, a Labour bounce in the local elections seems inevitable – but how will that translate to Oxfordshire?
Local issues matter in local elections, but only local government nerds fully understand which council does what. Broadly speaking, Oxfordshire County Council looks after roads, social care and education; the district councils do bins, planning applications, and leisure centres; and parish/town councils look after a variety of public buildings and parks.
After reading that sentence, you now know more than the many electors who just blame "the council". And parties deliberately play on that. Election leaflets this time round reference the new 20mph limits and OCC's council tax rise, even though these are county rather than district issues. The practice of "double-hatting", where the same person stands for election to both county and district, adds to the confusion.
This time round, there's also the complicating factor of photo ID being required for voting. Analysts are divided on whether this will benefit particular parties.
In other words, though these are district council elections, voters won't purely be casting their vote on district council matters. The results will be anxiously observed by county councillors and even MPs.
The state of play
Four years ago, Oxfordshire's four rural districts were all Conservative-controlled. The 2019 elections saw dramatic swings in Vale of White Horse, which moved to Liberal Democrat control, and South Oxfordshire, which fell to a LibDem/Green coalition. The Conservatives retained control in West Oxfordshire, but lost that in 2022 to a LibDem/Labour/Green alliance. Only Cherwell remains in Conservative hands today.
2019 saw a LibDem surge across southern England, recovering from the post-coalition drubbing of 2015, and buoyed by opposition to Brexit. The Greens did remarkably well. Labour (at the time led by Jeremy Corbyn) trod water, while Theresa May's Conservatives endured significant losses.
So whatever today's Westminster situation, in Oxfordshire, the centre-left parties will have to defend their gains. The Conservatives will be looking to take back some of the wards they lost last time, and to test out their attack lines. Put simply, the Liberal Democrats will be content to retain their current position: the Conservatives won't.
A less remarked aspect of local elections is that they also involve jostling within the parties themselves. A councillor who scores a big win, masterminds a successful campaign, or simply wears out more shoe leather on the doorsteps, enjoys an enhanced status in their local party. This might put them in line for the leadership, a plum cabinet role, or best of all, a tilt at becoming the candidate ('PPC') at the upcoming general election. Intra-party relationships are not always sweetness and light, and much though they may deny it, there'll be councillors hoping certain colleagues don't win too handsomely.
What are the issues?
Housing continues to be the dominant concern, together with the infrastructure required to accommodate it – such as the controversial 'HIF1' Didcot relief road. In South and Vale, the LibDems were swept to power amid local anger at the scale of building proposed. They now have to navigate a way through the plans they inherited. In West Oxfordshire, meanwhile, delays by house-builders could open the district up to speculative development, a potent source of worry for communities.
Local elections often hinge on single issues. In Kidlington, for example, the proposed new Oxford United stadium is an emotive subject. Some villagers are anxious at the erosion of green belt between Kidlington and Oxford, while OUFC supporters see a way out of their Kassam trauma. Around Botley and Eynsham, Blenheim's proposed mega-solar farm is rising up the agenda.
These issues can spill over from neighbouring districts. Oxford's low-traffic neighbourhoods don't impact many out-of-city residents, but the proposed traffic filters might. "Anti-motorist" is a readymade attack line in rural areas which are, for better or worse, car-dependent.
Council tax hikes are another easy leaflet headline. The districts have raised their tax by around £5 each. This is pretty insignificant compared to the 4.99% rise from the county council, which works out at around £80 for a typical property. (This, in turn, is less than the 5.99% rise that the Conservative county administration levied in 2018.) Nevertheless you can be sure the county rise will feature on leaflets for the district elections, often accompanied with the leading phrase "pet projects".
In 2019, council finances were a big issue in South and Vale. Both district councils faced a multi-million pound deficit, partly due to a troubled outsourcing initiative. The new administrations have largely turned this around. This isn't a given vote-winner; quiet competence isn't always rewarded at the ballot box. But Oxfordshire has an educated and informed electorate, and there are plenty of voters who'll rate this over leaflets with colourful bar charts and equally colourful language.
South Oxfordshire
2019's elections were little short of an earthquake in South Oxfordshire. The Conservatives were defending 33 seats; they won just 10. The balance of 23 principally went to the Liberal Democrats and the Greens, who have run South Oxfordshire since, but also to Independents, Labour in Didcot, and the feisty Henley Residents' Group.
In theory the LibDem/Green majority is narrow, with 19 of 36 seats. But given the county alliance, it's unthinkable that Labour would use its three seats in the service of the Conservatives.
Indeed, most of the rural seats are a two-way fight between a Conservative candidate and either a LibDem or a Green – the two coalition parties having agreed not to fight each other. Labour is contesting Didcot, one of the Thame seats, and Garsington, but nowhere else. Unusually, there are two candidates from the continuity Social Democratic Party, and two from Brexit Party successors Reform UK. James Endean-Mills, former leader of West Oxfordshire District Council, is standing for the Conservatives in Chinnor (currently Con-held).
LibDem Tim Bearder has relinquished his Hampshire seat to defend Forest Hill & Holton, while Bob Dhillon, Conservative candidate for Berinsfield, gives an address in Warwick. In 2019 Dhillon was the Brexit Party's candidate for Warwick & Leamington, before standing down over a series of Islamophobic postings. Twitter accounts that appear to be associated with him contain a tweet saying the LibDem party should be banned for "treason", and another saying "Rishi Sunak has vowed to tackle the inflation caused by Rishi Sunak and lower the taxes set by Rishi Sunak".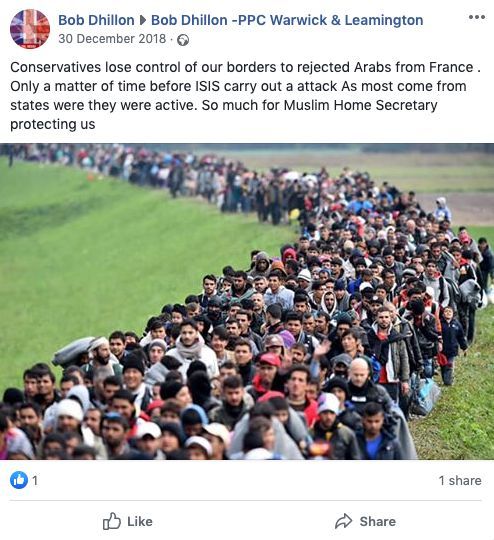 The 2019 headlines masked several tight races in South Oxfordshire. The council has numerous multi-member wards where more than one candidate is elected. It's also less influenced by Oxford issues than the other councils, with much of the district looking to Reading as its local centre.
That makes this an unpredictable election which will be watched closely, particularly given the retirement of John Howell as Henley's MP. The LibDems have already selected their challenger, Watlington county councillor Freddie van Mierlo, while rumours swirl that Boris Johnson is planning a "chicken run" to what used to be his seat.
Vale of White Horse
The sister council to South Oxfordshire saw an equally dramatic swing in 2019, with the LibDems taking 22 seats and overall control from the Conservatives, and the Greens taking 1.
Unlike South Oxfordshire, there's no governing coalition between LibDems and Greens here, but the parties have stepped aside for each other in a few wards. For example, Watchfield & Shrivenham will be a straight fight between two Greens and two Conservatives.
'Vale' is the area of modern-day Oxfordshire that was once Berkshire. Its capital is still Abingdon, formerly Berkshire's county town. But as well as LibDem-dominated Abingdon, the district includes parts of outer Oxford: Botley, Cumnor, Kennington.
One key topic to watch will be whether the city's traffic travails have any impact on the vote here, particularly with the current Botley Road bridge closure. The River Thames, which forms the district's border to the north and east, is an electoral issue in three ways: flooding in Botley and Abingdon, Thames Water's proposed mega-reservoir near Abingdon, and ongoing sewage discharges into the river.
Labour currently has no seats on Vale. It's contesting the Abingdon and outer Oxford wards, but not the rural areas or even market towns and large villages like Faringdon, Wantage/Grove, or Shrivenham.
West Oxfordshire
Although West Oxfordshire is run by a LibDem/Labour/Green coalition, the centre-left parties are competing against each other in most wards. That said, many of the candidates are "paper candidates", standing to make up the numbers but with no realistic hope of election.
In general, the towns of Witney and Chipping Norton are Lab/Con battlegrounds; the Oxford commuter belt (Eynsham, Woodstock, Charlbury) is a LibDem/Con fight; and the villages are Con but with some LibDem inroads.
Witney has been trending Labour recently, and the Conservatives will want to regain ground. Witney North is a three-way fight: former WODC deputy leader Toby Morris will be seeking to regain a seat for the Conservatives and displace an anti-development independent. Former UKIP candidate James Robertshaw is standing for the Conservatives in Witney East.
Labour would be expected to win Chipping Norton but for the presence of incumbent Mike Cahill. Elected for Labour in 2019, he was suspended from the party in 2021 for posting a link to an anti-Semitic cartoon on Facebook. He is restanding as an Independent and fighting hard.
And then there's Carterton. Dominated by RAF Brize Norton, the military town had long been a Conservative stronghold until the LibDems took an interest: they gained a seat in 2022 and lost out on another by just five votes. In Carterton South, former mayor Lynn Little, who's had a tempestuous relationship with the town council, is standing as an independent against WODC Conservative group leader Michele Mead. Candidates from the right-wing Heritage Party add an extra twist.
The hardest fought ward will be the rural patch of Hailey, Minster Lovell and Leafield. Pugnacious Conservative county councillor Liam Walker is standing for the district seat here. With no love lost between Liam Walker and the LibDems, expect a veritable blizzard of leaflets.
Cherwell
North Oxfordshire, aka Cherwell, is the one district still under Conservative control (25 Con, 9 Lab, 7 LD, 5 Ind, 2 Green). It would be a stretch for this to change in 2023, especially with just one third of seats up for election; but with a nominal Conservative majority of 2, it's far from impossible. Once again, the LibDems and Greens have an alliance here.
Banbury's wards are two-horse races between Labour and Conservative. The Castle Quay shopping centre continues to cause controversy. Cherwell District Council bought it for £122m in 2017. It's now estimated to be worth around half that. Several of its units are empty, and it's lost anchor tenants such as M&S and Debenhams.
Bicester is Conservative-dominated but with a strong Independent showing. One Independent incumbent, Nick Cotter in Bicester South, has rejoined the LibDems. In a town anxious about the impact of shopping behemoth Bicester Village, the council's decision to approve its new car park on playing fields has gone down like a (designer) cup of cold macchiato, and will be very uncomfortable for Conservative incumbents to defend.
The rural village wards have long been Conservative and no shocks are expected here. As in West Oxfordshire, though, the LibDems (and Greens) have been making advances in 'Greater Oxford', with seats in Kidlington and Otmoor to defend.
Centre-left pressure group Compass has published a set of recommendations for tactical voting in Cherwell. It says voters in Banbury should vote Labour; for those in Kidlington and the rural areas, it endorses LibDem and Green candidates. Deddington, Bicester North and Bicester West it classes as "hard to call".
The new Bicester & Woodstock parliamentary seat is coveted by both Conservatives and LibDems. Neither party has yet selected a candidate, but OCC Conservative group leader Eddie Reeves has already declared his interest, and Liam Walker has dropped hints. We expect some public declarations will be kept quiet until 4 May, to avoid accusations of disinterest in the district wards where they're seeking election.
Banbury's MP Victoria Prentis has an outside chance of losing to Labour in the event of a Starmer landslide, especially given that the new boundaries will take in Labour-voting Chipping Norton and LibDem Charlbury. Campaigners will be carefully noting polling day returns in Cherwell to determine where to place their efforts at the general election.
Updates
We've made two changes to this article since original publication. We'd originally noted that a phrase like "address in West Oxfordshire" on the ballot paper often suggests a party activist who doesn't live in the ward, and is common for paper candidates. Katherine Foxhall pointed out that it's also a frequent – and sensible – precaution for candidates, especially women, with concerns about personal safety and privacy. This is an important point and bears repeating. Thank you Katherine.
Nathan Briant spotted that James Endean-Mills, former leader of WODC, is standing for the Conservatives in Chinnor, South Oxfordshire – thank you.