Oxford's secret pavement parking ban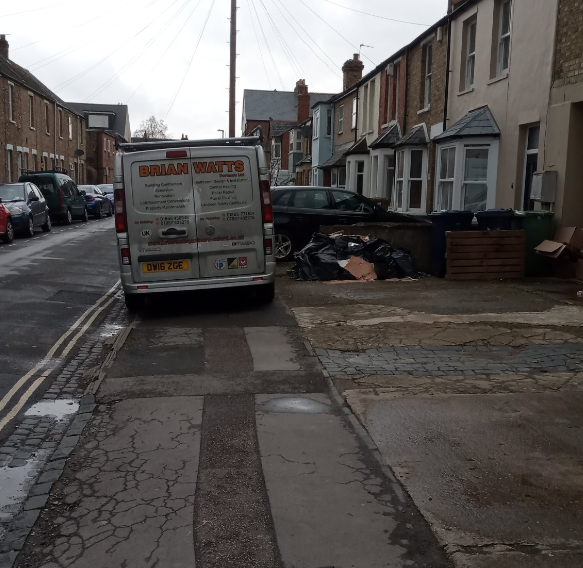 Pavement parking is the scourge of people in wheelchairs or pushing buggies – and it's getting worse.
Crossovers and SUVs now account for 54.8% of new car sales in the UK. Cars are getting wider, but Oxford's roads aren't. The result is an epidemic of pavement parking. On narrow city roads, such as those in the residential areas of East Oxford, these larger cars regularly encroach on the pavement. Other cars can still pass on the carriageway, but often, disabled people and parents of young children are forced off the pavement into the road.
But the issue isn't just one of wider cars. It's commonplace in Oxford to see smaller cars, delivery vans, and other vehicles parked on the pavement, sometimes for hours on end.
Pavement parking is illegal in many places, from France to California – but not the UK. Organisations such as Living Streets, Sustrans, and Guide Dogs for the Blind have launched campaigns to change this.
In 2020, the Government launched a consultation on pavement parking. Introducing it, transport minister Baroness Vere of Norbiton wrote:
I know that pavement parking can cause real problems for pedestrians, but particularly for wheelchair users, people with visual impairments and those with prams or buggies.
But the results have not yet been published, and enquiries have been rebuffed. In a Freedom of Information Act request this week, the Department for Transport stonewalled the enquirer, saying "The Department is working through the policy options for tackling pavement parking with a view to securing collective Cabinet agreement". Scotland intends to introduce a ban, but has not yet done so. The only city with a full ban is London, thanks to a 1974 Act of Parliament. Everywhere else, pavement parking is effectively legal.
Well, not quite everywhere.
Oxford's permit parking zones
Controlled Parking Zones (CPZs) cover most of Oxford, from Cutteslowe to Greater Leys, and are planned to spread further. Oxfordshire County Council has a lengthy page explaining restrictions in each. The standard recipe for CPZ streets is a majority of 'permit holder only' parking, plus a small number of spaces open to all but restricted to three hours or less.
Since 2007, pavement parking bans have been included when a Controlled Parking Zone is introduced.
In the Traffic Regulation Orders that establish a CPZ, Oxfordshire County Council now uses a form of words that explicitly requires vehicles to be parked on the carriageway only – i.e. not the pavement. For example, the Order setting up a CPZ for East Oxford states:
20. No person is to cause or permit a vehicle to wait in a General Parking Place unless:
(1) in relation to any General Parking Place specified in Part A, B , C, D, E, F or H of Schedule 5 it is parked with every part of the vehicle on the carriageway and so that it is entirely within the limits of the General Parking Place as marked unless an exemption as specified in Article 12 applies and for a Motor Cycle it is also parked so that it is perpendicular to the kerb
And a similar clause for permit-controlled spaces:
No person is to cause or permit any vehicle to wait in any Permit Parking Place during the Prescribed Hours, except upon the direction or with the permission of a Civil Enforcement Officer, the Council or a police constable in uniform unless:-
(1) it is a Permitted Vehicle or an exemption as provided in Article 12 applies; and
(2) it is parked with every part of the vehicle on the carriageway and entirely within the limits of the Parking Place as marked unless an exemption as specified in Article 12 applies and that any Motor Cycle is also parked so that it is perpendicular to the kerb;
A small list of exemptions (Article 12) includes emergency service vehicles, Royal Mail deliveries, and "waiting for the purpose of loading or unloading Goods at, or for the collection of waste from, premises situated at or adjoining that road". As the Freight Transport Association explains, loading and unloading is not a catch-all excuse:
Loading and unloading must be a continuous activity and the vehicle must be moved once it is complete. Even if the delivery only takes two minutes, the vehicle must be moved as soon as the process is complete. Loading includes the movement of goods to and from premises, checks on the goods delivered and paperwork.
Where does this apply?
We've searched through Oxfordshire County Council's Traffic Regulation Orders and found an explicit clause, restricting parking to "every part of the vehicle on the carriageway" (or similar), in these areas:
This list isn't exhaustive. Earlier Orders used wording which doesn't mention the carriageway specifically, but could still be construed as a ban. For example, the Summertown Order from 2004 says "provided that the vehicle is entirely within a Permit Holders' Parking Space" (Article 20.1); similarly the North Oxford Order from the same year (Article 18). The Headington Order from 2006 requires that "it is entirely within the limits of the Permit Parking Place as marked". The Iffley Fields Order from 2018 is ambiguous (Article 16) and could potentially be contested. As observers of Oxfordshire County Council's 'Delegated Decisions' meetings will know, Traffic Regulation Orders are regularly revised; this opens the prospect of the newer wording being applied consistently to all CPZs in Oxford.
Oxfordshire County Council says it only records overall income from CPZs, not any more detailed breakdown. Penalty charges have topped £400,000 in some years, as a response to a recent FoIA request shows:

A clause in a Traffic Regulation Order is worthless if it isn't enforced. As users of Oxford's pavements will testify, these clauses banning pavement parking are enforced spottily at best, if at all.
But the option to do so is there. The Oxford Clarion has been passed third-party expert opinion that agrees the clauses are likely to be legally sound and enforceable. Oxford could be the first English city outside London to ban pavement parking.